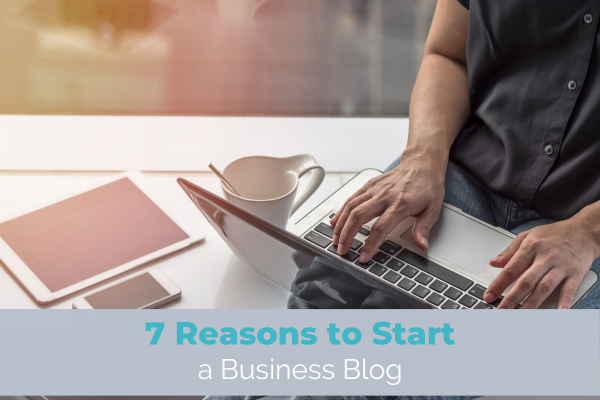 Should you start a business blog? Is it worth the time and effort?
Yes, yes, and YES. Here are 7 reasons why I say blogging is for winners.
#1 Blogs will give your business fresh content.
You know how donuts are best when they're fresh each day? Well, both your readers and Google feel the same way about your online content.
Maybe not each day, but if you can post each week, or every other week, it's a lot better than once a year (or two).
You will build more trust and loyalty with your clients and customers if you serve them fresh ideas. Use your blog to share advice, thoughts, news, and pictures.
Highlight your accomplishments, your staff, and your big "wins."
Trust me - people want to celebrate with you. If you're an expert, use your blog to show them why and how.
#2 You can practice writing skills with a business blog
I realize not everyone loves to write as much as I do - but writing is like riding a bike.
(And now all of the writers go "yay," and all of the non-writer go "sigh.")
But it's true - writing is a skill.
The more you write, the better your writing skills get. And what better way to practice, and give your employees a way to practice, than by starting a business blog!
Having strong writers on your team who can communicate succinctly and clearly will go a long way. How so?
Can't you see it now… your business is known for its professional emails, contracts, brochures and social media posts full of great, well-written copy?
Your phone calls and customer service reps quickly and clearly respond to their cases because writing blog posts taught them how to order their thoughts?
Writing is a big piece of communication, and strong relationships take a lot of good communication.
Hone your team's skills with blog writing!
#3 Blogs can help you share your news
Did you launch a new product? Hire an awesome new employee? Did you just win an award? Move the office? Get an office pet?
These are all great things to write about. Where?
On your blog!
Blogs are fantastic "holders" for internal news. A lot of organizations even use blogs as a press release archive.
Social media posts may get you "buzz," but a blog will keep a record of what's happened at your business on your website.
Blogs will help new visitors get an idea of your history, who you are and what you do.
#4 Drive traffic to your website from social media
When you have a website, you want visitors (a.k.a. traffic). And where does a lot of web traffic come from these days?
Social media!
If you take a look at some of the biggest, best brands on social media, you'll see a common theme. A lot of their posts will contain links back to their websites - many times their blog posts. Blogs are great content for Facebook and Twitter. When you have people actively following you and showing you they want your information, use a blog to engage them!
#5 Blog posts can spruce up your ad words
If you run pay-per-click campaigns, blog posts can be great new content for your Google ad campaigns.
The goal of your Google ad campaigns is to drive traffic to your website and turn leads into new clients and customers.
Let your business blog help!
Write a blog post with a specific keyword or phrase in mind - one that will answer the exact question a potential customer is looking for - and then create a Google ad out of it, linking the ad to your blog post.
I've seen this be a very successful strategy for pay-per-click (PPC) clients, as well as nonprofits with Google grants.
(Digital Division just happens to be one of the best PPC agencies in the U.S. Learn more!)
#6 Blogs show off your creativity
You can never be too old for a new, creative idea.
But, not all of us force ourselves to think creatively anymore!
When we're stuck in spreadsheets, systems, and processes, it's easy to forget how to think outside of the box. We don't realize the next off-the-wall idea that will define our next five years is just a creative thought away.
What can you do? Use a blog to restart your creativity!
Blogs are flexible and fun, and people expect that from them. So experiment!
Come up with new topics and categories. Try out new ideas.
Blogs shouldn't be stale; use them as a way to keep your team energized and having fun.
#7 Business blogs are a digital marketing best practice
Last, if you want to be a digital marketing all-star, you're going to want a blog.
But don't just build a website with a blog and never update it, that won't do you any good. Make your business blog a priority.
I think you'll have a lot of fun and see results.
If you need help starting, planning and/or writing a blog, let us know. Give us a call at (816) 774-1556!