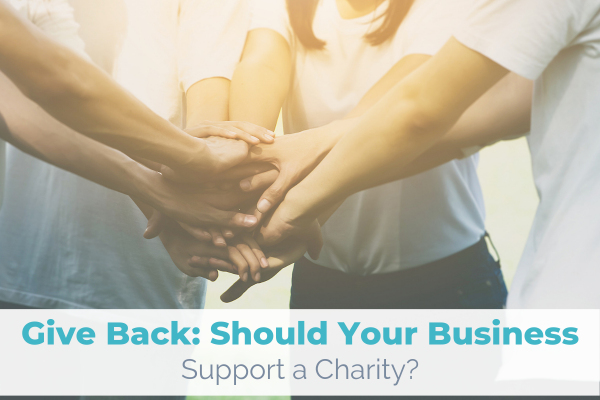 Tis' the season to be generous!
The holidays are a great time to think about next year's goals. If you don't already, make one of them to establish a relationship with a nonprofit.
Most charities are fundraising during the end of the year and showcasing what they do, who they help, and why their mission is important.
Giving Tuesday usually kicks this off every year!
Now's the time to look for cute pictures of kids getting school supplies, patients receiving support, and homeless men and women moving into housing, for example.
As someone who's worked with a lot of nonprofits, I assure you, NOW's the time to see them put their best feet forward.
Why Partner with a Nonprofit?
It's wise for businesses to consider working or partnering with a nonprofit, and not just because it's important as humans to do good in the world.
Although honestly, that's an important initial reason.
But supporting a charity can be great for your business goals, too. The Harvard Business Review pointed out that in many corporations, working with a nonprofit is not philanthropy, it's marketing.
Nonprofit partnerships can provide you with great content for your social media pages and blogs. You could team up and host an event to support a charity, meanwhile giving you a great reason to connect with current and future customers.
If that's not enough, the millennial generation, currently the largest demographic in America's workforce, LOVES the idea of businesses giving back and doing good.
If you want to attract young, fresh talent - this will be an important aspect of your company culture.
How to Choose A Charity to Support
So you're sold on working with a nonprofit - but how do you choose which one to work with? There's no magic answer to this.
But oftentimes the best business-nonprofit relationships are built when the cause is personal. Nobody wants to feel like they're just being handed empty money without any heart behind it.
Nonprofits included.
4 Questions To Ask Yourself
Choose a charity where there is an interest and passion amongst your team or your customers. If you need a starting point, consider this:
Is there a disease someone in our workplace is fighting/has survived we can support?
Is there a local nonprofit that pours into our city that we'd love to get behind?
What's important to our customers - pets, children, animals, education, poverty?
Which nonprofit shares a similar target audience as we do?
These initial questions can point you in the right direction and help you start narrowing your choices down.
A lot of times the nonprofit(s) you work with will come down to being a good fit.
What to do when partnering with a nonprofit
Once you've selected a nonprofit to support with your business, there are several next steps you can take to make the experience great for everyone.
Build a relationship
If you think business is built on relationships, you should spend a day in a nonprofit! When the majority of your work involves bettering people's lives, relationships are king.
If it's a small nonprofit, you'll most likely want to connect with the founder and/or president and a board member.
For larger nonprofits, build a relationship with the development director and strategic partnerships personnel. It's also great to meet a board member here, too.
The reason to start with building a relationship is that these people can provide you with support and answer your questions. It's a good thing to be on their radars.
And, they can work with you to tailor your involvement in a way that best matches your goals and their needs.
Come up with the idea
"What should we do together?" that's a really common question with a simple, non-specific answer: "What do you want to do?"
Most of the time, nonprofits are great to work with because they can be flexible.
Want to host a ping pong tournament to raise money? Awesome! Want to ask all of your staff wear red pants to work and donate $5 a day for every person to participates? Bingo. Can you offer a matching gift program? Amazing.
The sky's the limit on what you can do to support a nonprofit. If you need initial ideas, the nonprofit can help. But don't be afraid to take your ideas to them.
This is a great opportunity for creativity!
Donate talent and time
Last, don't forget a strategic partnership can go beyond putting dollars into a nonprofit's bank account (although that's vitally important). But think about how you can donate other ways.
Maybe you make plans so your entire staff volunteers for the nonprofit one day.
Maybe you have a trade or product, for example, you build websites and know SEO, and you can donate your time to helping a nonprofit (ahem, have you seen Blair's Foster Socks?)
Perhaps you can read to kids, offer consulting services, or provide in-kind donations for auctions and fundraisers.
Bottom line - you have a lot to offer. That's why you're in business. I guarantee there's a perfect nonprofit out there who would benefit greatly from a relationship with you.