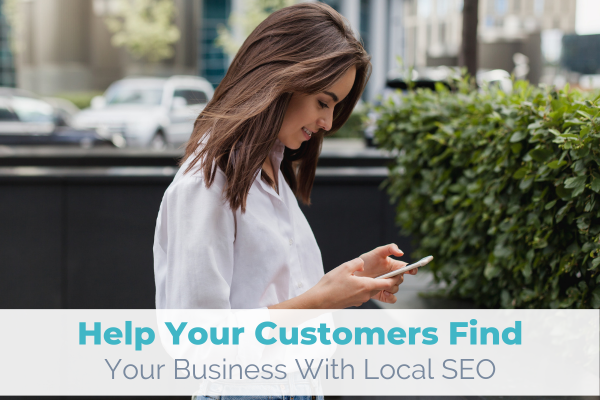 How can accurate, consistent online listings be one of your most important marketing tools? Many business owners don't realize that they're missing out on potential leads and sales online. Whether you're trying to establish your new business or looking for ways to promote the family company, Local SEO is one of those critical things you can't ignore.
Local SEO vs Organic SEO
You might ask: is there a difference between local SEO and organic SEO? Both help my website rank, right? You wouldn't be wrong, but search engine algorithms are complicated and designed to bring up results based on factors that can change depending on the search.
Local SEO is different from organic because it has a geographical component. Most search engines assume that you're searching for a product or service near to you, so they will sometimes automatically include the location in your search. Sometimes you may have to include a city in your search. Either way, the search engine is designed to help you find what you're looking for, exactly when you want it, and it will tell you where to find it in that instant.
Organic SEO doesn't contain that geographical component. Organic uses the keywords in your search to pull up relevant information, regardless of where you are in the world. There are hundreds of factors used to organically rank and index websites. However, your business will show up higher on the search engine results page (SERP) if you are able to match the top three ranking factors:
Location – where is your business in relation to your customer?
Relevance – does the content on your site match what your customer wants?
Social & Online Prominence – are you visible and consistent across the internet?
One of the best ways you can establish local SEO is with online business listings. These listings most often include the basics: your business's name, address, phone number, and URL.
Why Online Listings are Important
Think of online listings like your internet birth certificate. Your listings show that your business exists, and they add credibility to that existence. If you have a physical, brick and mortar store, you need to have accurate listings so that you can guarantee that you show up in their local search. Businesses with multiple locations need to maintain accurate listings for all of their storefronts to ensure they're being found in every possible location.
If you don't have a brick and mortar store, i.e. if you work out of your home, you can still establish your presence online by demonstrating your local area. You can do this with Google through your Google My Business (GMB). No matter which search engine you prefer, your business's credibility relies on having some sort of presence that shows customers that you can be trusted.
Google My Business: More Than Just a Listing
As a Premium Google Partner, we work hand in hand with Google to ensure that we're on top of the latest SEO trends. One of the best things about working with Google is that we understand the importance of using tools like Google My Business to their fullest extent.
Google My Business is not just another online listing. Think about your GMB as a mini, free website that will show up in local SEO results. You can control what information goes onto your GMB and ensure that your business is safe from being misrepresented online.
You can share information with Google Posts, display reviews, indicate hours of operation, appointment scheduling, and more. Google My Business is the best, easiest way to ensure your business information is getting to the customers who need it most. When Digital Division's local SEO specialists are establishing an online presence for a client, we always start with GMB because it's so essential to online success.
How Does All This Affect Your Business?
If you're a business owner struggling with the best way to focus your digital marketing dollars in 2019, we highly recommend you let us take a look at your online listings. Establishing and maintaining a strong local SEO presence can work wonders for businesses who need a little extra boost. Do your customers and your company a favor this year and ensure that your online business information is correct.
Struggling to establish your business online? Our local SEO strategists have the tools and insights you need to put your business on the map – literally. Contact Digital Division or call (816) 774-1556 today!