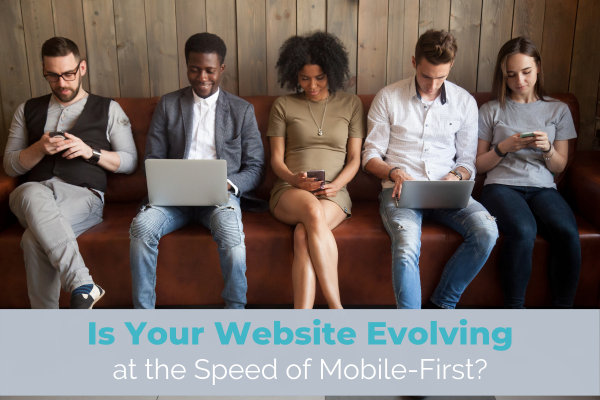 Mobile moments are micro-moments. According to Google,
around 80% of smartphone users consult their mobile device
before making the final purchase decision in store. That's a lot of people who don't want to wait for your website to take five seconds or more to load. If your clients are having to fight to access your site and view your information, you'll lose out on potential conversions. On the other hand, investing in a Mobile-First website – a site that's more than just Responsive to your customers' needs – gives you better chances for more traffic, more lead opportunities, and more potential conversions. A Mobile-First website isn't just visually appealing across all devices; it's a cunning business tool that shows that you're keenly tuned to providing your customers with the best possible online experience.
The Evolution of the Mobile Website
The term "Mobile-First" has been gracing the internet since Apple launched the iPhone in 2008. As desktop purchases decline and smartphone purchases soar, digital marketing has had to evolve with the times. In 2009, only 0.7% of web traffic came through mobile devices. Nearly 10 years later, approximately 60% of search traffic comes from mobile. To meet this growing demand, Google announced the creation of Accelerated Mobile Pages (AMP) in 2015. AMP Pages are supported by many different browsers and platforms, but their creation is most notable because they started to shape a website strategy that had developers focusing more on improving mobile loading speeds. After the birth of AMP, website development and programming strategy evolved from Mobile-Friendly to Mobile Responsive to Mobile-First.
Mobile-Friendly
At first, website development used a Mobile-Friendly approach: the website that you viewed on your mobile phone was identical in every way to the website on your desktop. The hitch was that Mobile-Friendly development treated mobile sites like afterthoughts and add-ons to an existing site rather than as separate websites that needed to be carefully cultivated and developed on their own.
Mobile-Friendly sites use the "Graceful Degradation" technique by designing a website for the desktop and shrinking it down to fit smaller screens. Unfortunately, when you scale down large pieces of content on your site, it can slow your loading speeds down and discourage users from staying on your site.
Mobile Responsive
Mobile Responsive sites evolved from the Mobile-Friendly approach by designing website pages for different devices depending on the screen size. This approach designs one site for desktop, one for mobile, one for tablets, etc. However, it's a more technical approach that still uses "Gradual Degradation," rather than "Progressive Enhancement," which was introduced with the evolution of Mobile-First design.
Mobile Responsive is still widely used by many companies for their websites because it allows them to provide large amounts of content to their customers. A Responsive site works well for users that perform the majority of their searches on a desktop or laptop. Unfortunately (or fortunately, depending on your view), our society is becoming increasingly mobile-centric and Responsive sites are in great danger of being left behind.
Mobile-First
Mobile-First sites are designed with the smallest screen in mind and then cohesively work the design into larger screens. This process is intended to maintain visual consistency across the sites, increasing user functionality and mobile speed. There is a cohesive design strategy that provides optimal viewing and user experiences for your customers.
Rather than shrinking content down across the screens, Mobile-First design uses "Progressive Enhancement" which optimized content across all devices and browsers. Google has answered this design process with their mobile search index that organically ranks mobile content for mobile device users. Their ranking algorithm is complex and not always perfect, but the message and intent are clear: mobile is the way of the future, and the search engines are scrambling to keep up.
What Does This Mean for Your Business?
Mobile-First website development can mean different things to different companies. A successful Mobile-First website meets several criteria, including:
Faster loading times to prevent user loss
Site optimization for whichever device your customers use more often
Minimal content and feature space with an emphasis on your call to action (CTA)
User access to important information, like promotions, without excessive scrolling
Increased user functionality on mobile that leads to all devices being functionally supported
In order to understand whether a Mobile-First website is right for your website, you need to understand your customers and how they like to shop. If you have more customers find you by searching on their phone, a Mobile-First website is a must. However, if you see that your users are still mostly using their desktop computers, you can keep going with a Responsive site for a while longer.
Ultimately, it boils down to working with a website developer that will do what's best for your business. That's why Digital Division is dedicated to working with clients to transform their overall digital marketing strategy for the sake of business growth. We'll be honest with you about what's best for your website and collaborate with your team to make sure your business is being represented in the best possible light.
Ready to get started on building a beautiful, functional website for your business? Contact Digital Division or call (816) 774-1556 today!