Spot and Dispute Spam
If you work in local SEO, there's a good chance you've encountered an effective black hat technique that has dominated Google Maps results for several months: map spam. If you've not encountered map spam, you likely will soon because Google seems to be unwilling or unable to prevent it. Here we'll outline the types of map spam, ways to fight it and why map spam is currently winning.
Map Spam Type 1: GMB Keyword Stuffing
The first kind of map spam is simply a new variation on keyword stuffing. Because Google Maps relies more heavily on keywords than normal Google results, many businesses will add popular keywords to their business name on Google My Business (GMB). For example, when you search for the keyword "roofing" in Seattle, the top result has added "Roofing Construction | Roofing Services Seattle WA" to their business name and the second result has added "Seattle Roofing Contractor."

---
Spam Removal: Reporting GMB Keyword Stuffing
This type of map spam can be easily dealt with. You can simply suggest an edit to the profile and, often, Google will quickly update the profile. Joy Hawkins wrote a post on fighting map spam earlier in February with some excellent information on this process.
The major problem with this system is that Google's created a game of whack-a-mole where businesses engaging in this behavior face no consequences and can simply change their name back once Google has accepted an edit.
Here's an example of a business our firm edited in February. The business name as listed on their website is simply "Windsor Gardens," but their GMB profile has added "Memory Care" to the title to improve search visibility. We suggested an edit and removed the stuffed keywords, but just two days later, the business had updated their business name to again include the stuffed keyword. Google still displays a message that our edits had been published.
Map Spam Type 2: Fake Listings
In instances of fake listings, spammers are taking the extraordinary measure of creating new websites, phone numbers, and addresses for nonexistent businesses that target very valuable keywords, often in the home services industry.
Sometimes these companies freely admit to this on their GMB profiles.
Here's an example our firm has been fighting in the Atlanta area for months. This example is particularly egregious because dummy profiles have taken all three spots in the local pack for the keyword "foundation repair" in Atlanta.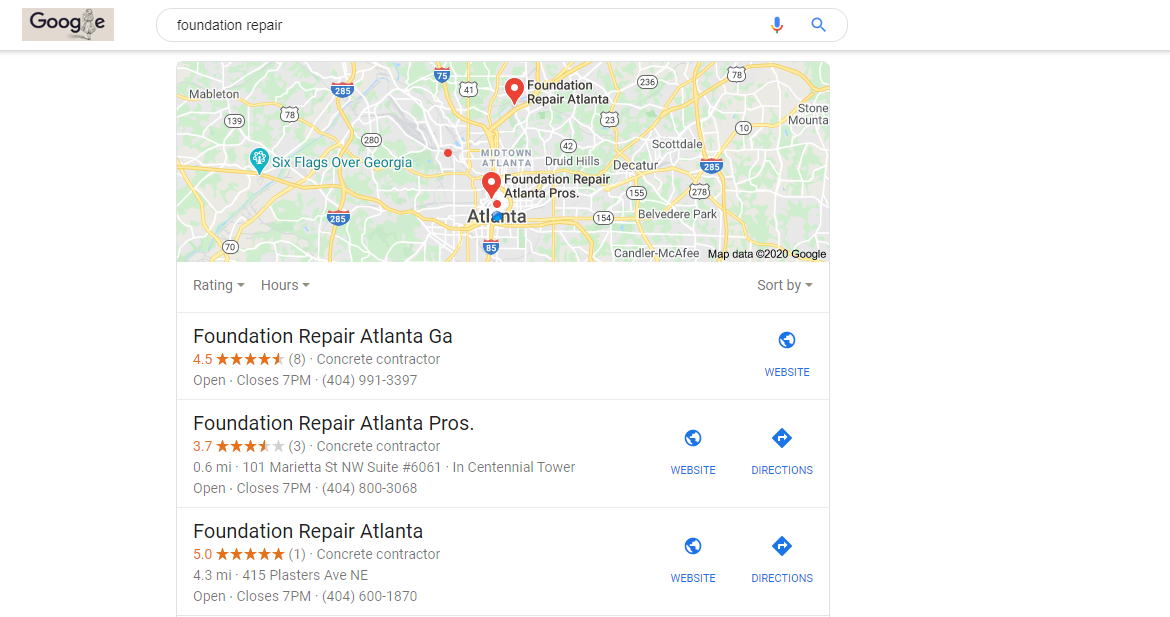 When you call the first result, "Foundation Repair Atlanta Ga," a representative cheerily answers the phone with, "Ram Jack of Atlanta. How can I help you?" Similarly, the second and third results redirect to area businesses with their own websites and Google My Business profiles.
Trouble with your Google Business Listings or Map Spam? Get in contact with one of our search engine specialists today.
---
Spam Removal: Reporting Fake Listings
Attempt 1: Business Redressal Complaint Form
To solve this problem, Google launched the Business Redressal Complaint Form in March 2019. Unfortunately, in our firm's experience, this form is ineffective. After submitting the form, Google sends an email that explicitly says they will provide no follow-up communication (unlike the edit process on Google Maps) and do not guarantee any action will be taken. With no ability to follow up and no information on how Google evaluates these reports, the form is the SEO equivalent of a fool's errand.

To date, despite submitting multiple forms over several months, not a single action has been taken against any violations our firm has reported.
Attempt 2: Call Google Support
There are other methods of contacting Google, but those have also been unsuccessful. We've attempted to talk to a Google representative on the phone several times. This can be a frustrating process as many of Google's customer support agents are still outsourced, despite promises to move call center jobs in-house. The timetable for these changes is through the end of 2020, so there may be improvements soon. In our experience, this has led to scripted responses and superfluous hoop-jumping that went nowhere.
As an example, after speaking with a Google customer support agent, we were sent an email that resulted in the following exchange:
Google:
This email is in regards to our conversation over the call about your business page [redacted]. To troubleshoot the concern, I would appreciate if you can share us the permanent signage of your business so that we can raise the concern to our specialist team and remove the duplicate business listings.
Digital Division (DD):
I've attached an image of [redacted].
The issues we've been having are with the following three listings. All three of these locations currently appear in the local pack for very high volume keywords despite being dummy profiles for non-existent businesses. When you call the phone numbers associated with these listings, they redirect to other businesses. Additionally, there is no signage or information at any of the addresses associated with the profiles.
Google:
I am able to see the links which you have provided for the business pages has different information like name, address and phone number. I could see the pages are verified under different email address, if you think the business doesn't exists on the location. You can report a duplicate location on Google Maps:
Open Google Maps.
Find the location you want to report.
Click Suggest an edit.
Mark the location as "Place is permanently closed or has never existed."
Select "Duplicate" as the reason.
Click Submit.
Once you give the feedback for the listings, your complaint will be reviewed in accordance with our guidelines for representing businesses on Google Maps.
DD:
I've done this multiple times, but no action has been taken. I'm reaching out because these profiles are taking extra steps to violate Google's guidelines. They each have a unique email address and website, but ultimately, their contact information redirects to other businesses.
We've verified this by calling the business numbers listed on the profiles and simply asking the person who answers the phone what company we've called. Every time, the answer is inconsistent with their business information.
Google:
Please you can report a duplicate location on Google Maps:
Open Google Maps.
Find the location you want to report.
Click Suggest an edit.
Mark the location as "Place is permanently closed or has never existed."
Select "Duplicate" as the reason.
Click Submit.
Once you give the feedback for the listings, your complaint will be reviewed following our guidelines for representing businesses on Google Maps
DD:
I understand the reporting process. The issues is that these listing are doing a good enough job of disguising themselves as legitimate businesses that they're not being caught with this process.
Attempt 3: Contact Google via Twitter
A similar exchange was had when we attempted to contact Google via Twitter.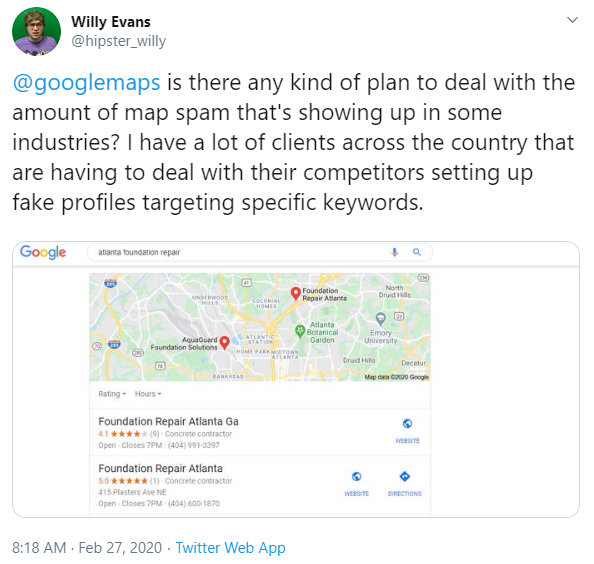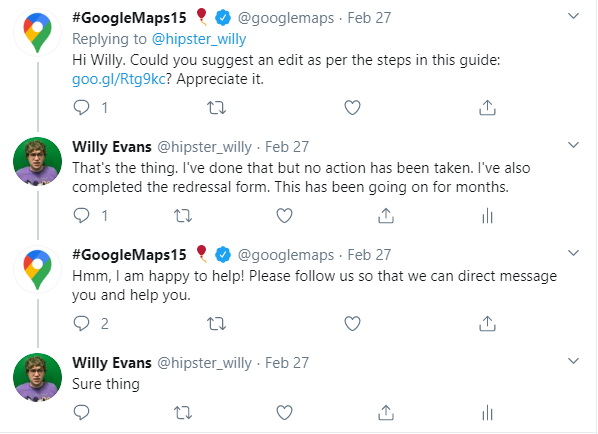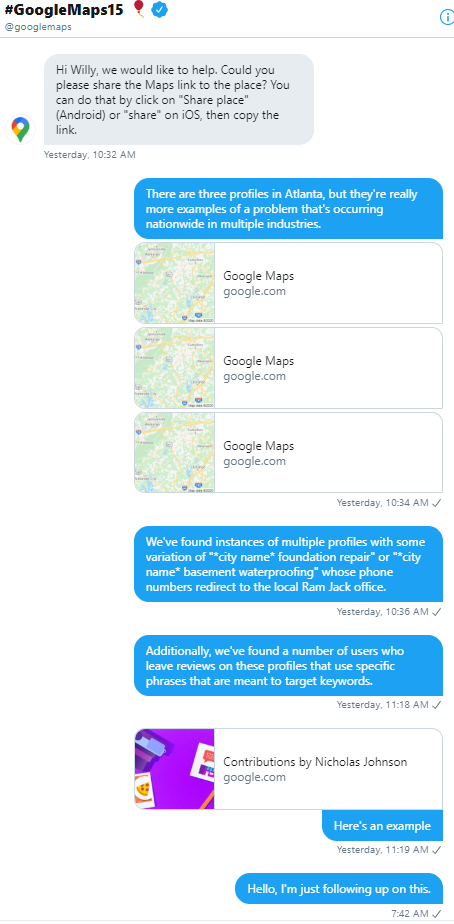 Why Fake Listings Work
Why can't (or won't) Google remove these profiles that, after investigation, are obviously fake? Simply put—they look real. They have unique business names, unique addresses, unique websites, high-quality images, Google Posts, and multiple reviews. This is enough for Google to give them the benefit of the doubt and not investigate the profile thoroughly.
By creating multiple fake accounts or using real accounts to leave fake reviews, these profiles not only make themselves look legitimate, but they also improve their rankings. 
Here's an example of a review left on a dummy profile in Chicago. Note the highlighted targeted keywords.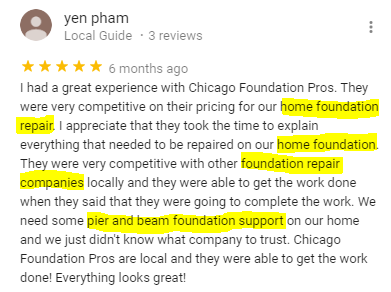 Here are similar reviews left on a fake profile in Atlanta.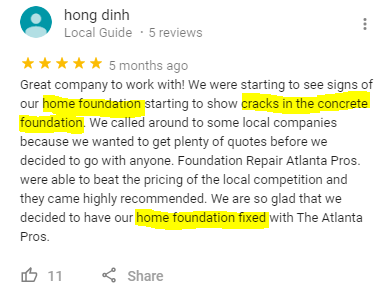 Some companies are so blatant in their tactics that they use the same fake account to leave reviews around the world.
In the screenshot below, Grand Promo left reviews for a foundation repair company in Houston, a power washing company in Wisconsin, two separate tree experts in Texas, and fence repair in Melbourne, Australia at approximately the same time.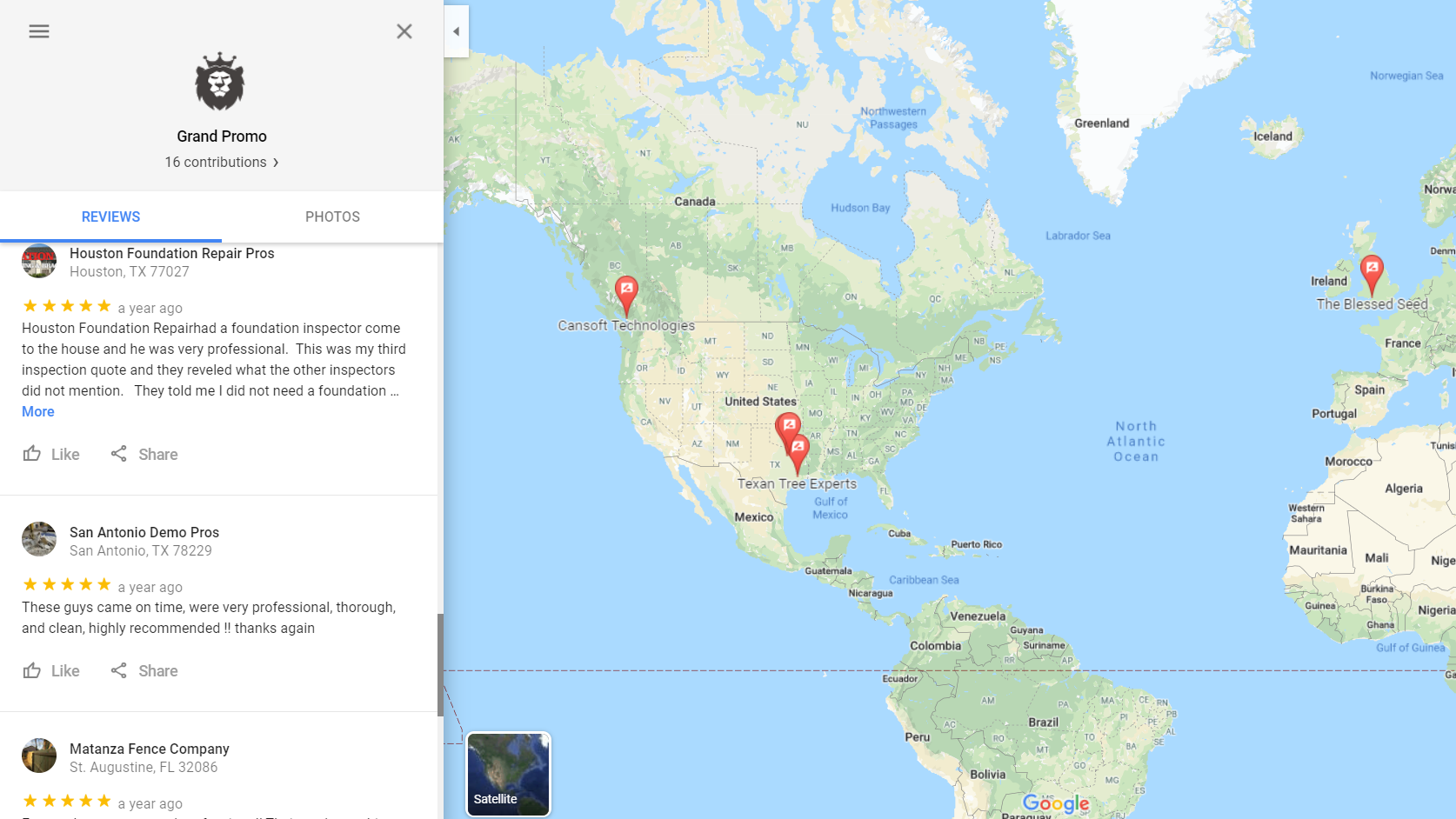 How to Fix Map Spam?
All of this leads to one question. What can be done to resolve SEO spam? Currently, not much. You can continue to report the spam and complain to Google, but until they decide to take decisive action, not much is likely to happen.
Even if the current map spam is removed, how will Google deal with more advanced spam techniques in the future? If a company with a dummy GMB profile trains their employees to answer the phone in specific ways when forwarded from a certain tracking number, how will Google verify a report?
Solutions could be implemented but they would likely have a major impact in the way that Google Maps operates. Additionally, Google may not be interested (or see a great deal of value) in fixing the issue. Recent updates to Google Maps in Europe seem to be handing off directory responsibilities to other services. Is this an indication of Google's attitude toward Maps? Only time can really tell.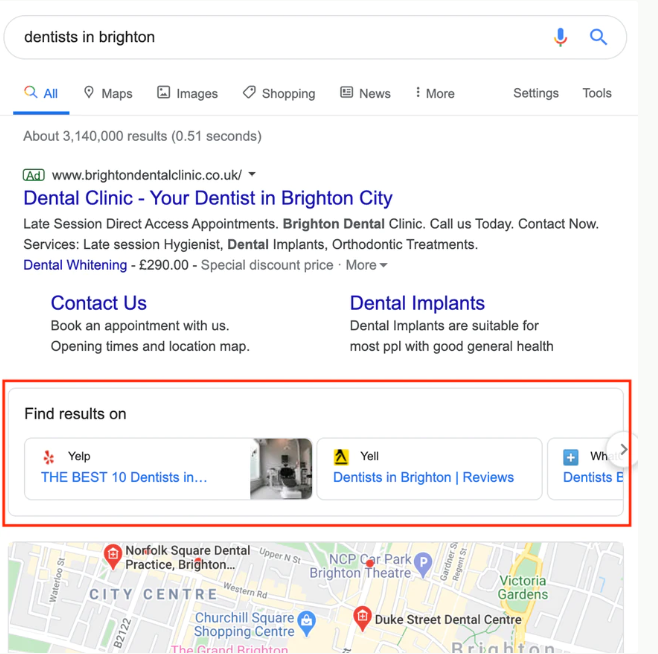 Ultimately, the conclusion is this, congratulations map spam. You've won. At least for now, you're allowed to run rampant without fear of retribution.