Elevate Your Business With Digital Marketing Services
Are you searching for ways to get your business to generate more leads? You may benefit from utilizing professional internet marketing services in order to achieve new heights as a business, bring in new customers, build your brand, and grow your revenue. A digital marketing agency provides all the marketing tools you need to be successful and achieve your goals.
Digital Division, a top ad agency in Kansas City, can tell the story of your brand or products through a technical website, a creative social campaign, or a strategic paid campaign that is coupled with branding, content, messaging, and video production. Or we can design and develop print brochures, signage, press releases, and more.
Enhance Your Business With Our Services
Not all business owners have the marketing experience needed to grow their businesses online, reaching across the wide online world to target specific audiences relevant to your company. With access to a marketing firm like Digital Division, you have the keys to the digital marketing kingdom. We offer online marketing services that can truly shoot your brand to the top.
We provide:
Website design and development (and hosting!)
Google Ads management, Bing Ads management, DuckDuckGo Ads management, and Yahoo! Ads management
SEO digital marketing strategy and implementation
Social media management and social ads management
Content marketing and conversion rate optimization
Brand design and development
Professional photography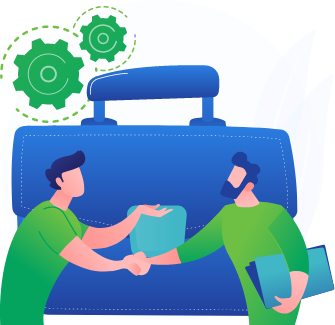 Digital Marketing Services FAQs
Do you have additional questions about our internet marketing services or about our digital marketing agency? Reach out to Digital Division now to get answers or read through the Q&A below.
Does your ad agency serve only the Kansas City area?
Our internet marketing professionals are happy to help businesses across the country and around the globe. We have a number of clients in Kansas City but we also have clients in other regions, and we provide all of our clients with the same exceptional level of service regardless of where their business is located.
Can your content creation expert write a case study for my business?
Yes, our writers draft copy for a variety of different marketing collateral. They can create blogs, case studies, email marketing campaigns, ad copy for a paid marketing campaign, website copy, newsletters, social media posts, and more. All of our content is geared toward increasing your visibility online, growing your consumer base, and supporting your marketing efforts.
Is organic traffic still important?
Organic search traffic is vital to your business' success. Paid advertising can also help your business, but you need your company's brand profile to be visible when potential customers perform searches in a search engine. Our search engine marketing professionals can help you get your business to rank in the search results and we use a variety of successful tactics to achieve success. We have digital marketing solutions to help your business grow and succeed. Call us to learn more.
How much does it cost to hire an advertising agency?
The costs of partnering with a digital marketing company like Digital Division will depend entirely on which of our services you choose to take advantage of and a range of other factors. We have a number of service packages, so you can find one that works for your budget. Using several of our services combined will likely increase the effectiveness of your marketing efforts.
For instance, combining a new website with paid search and SEO gives you the best chance to increase your business's online presence. However, you can choose to hire us for one service or several—it's really up to you. We also work with our clients, so you can change your package over time depending on your marketing budget and needs.
Why should I choose Digital Division instead of other marketing companies?
We know you have choices when it comes to obtaining the digital marketing services you need to support your business. We believe we should be your choice because we equate your success with our success. We grow when you grow, so we put everything into providing the best digital marketing services we can. It doesn't matter whether we are performing keyword research, writing website content, designing a site, or running your digital marketing campaigns, we put our all into achieving results for your business.
DIGITAL MARKETING SOLUTIONS
Relax.
You've got a digital marketing partner.
Digital Division is a marketing agency with solutions that can help you generate leads and transform your business.