Take Your Competitor's Potential Business
PPC (pay-per-click) advertising can work wonders for your business. These ads can bring in leads that turn into customers, keeping your business running smoothly. However, sometimes you will get calls that aren't exactly the ideal primed consumer. One thing you can expect for certain is to get calls from customers looking for your competitors.
Why does this happen?
Paid search can put your ad at the top of a Google search, even when the person types in one of your competitor's names into the search bar.
For example, if you are a landscaping company and are bidding on keywords that are also in your competitor's company name, your ad could appear at the top of the search results. The client might click on your ad because they assume that the company's page will be the first to pull up.
In the screenshot below, you can see that I typed in "bob and sons lawn care" into Google's search bar, which is the name of a landscaping company in Kansas City. Instead of the company being the first result at the top of the page, an ad for Dr. Lowe's Lawn Care pulled up instead. That's because Dr. Lowe's Lawn Care is likely bidding on the keywords "lawn care" and targeting the ad to the Kansas City area.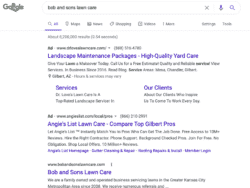 That example should help illustrate one main reason why you get calls for competitors after turning on paid search. You could get these calls for a few other reasons, including:
The client could have confused your brand or name with another company. They may be calling to set up an appointment with your competitor or calling you to confirm an appointment they already set up after performing a quick Google search.
The person may have clicked your ad while searching for a competitor's site.
It could have been an accidental click, when they meant to click on your competitor's result above or below your ad.
While calls for competitors can be frustrating to the average business owner, especially since paid search is not free, savvy business owners will see these calls as opportunities to put their dollars to work for them. No matter what caused that person to call your business, you don't have to let them off the hook with a, "Sorry, you are looking for a different company." If this person is looking for the same services or products you offer, why not convince them that they were looking for your company all along.
Here are some tips on how to convert a PPC caller—who was looking for one of your competitors—into your own client.
How to Convert PPC Calls From Competitors' Clients
Life and business are about perspective. For starters, why should you ever look at a person as someone else's client? Almost all people out there are potential clients for your business. They just don't know it yet. You need to show them that you have the goods they are looking for. Answering a PPC call from someone should always be with the attitude that your company has something no other company does—you just need to explain what that something is.
Scenarios
Calling to Set an Appointment With a Competitor - Book the appointment, and then explain that you are a different company (you don't have to tell them they called the wrong company right off the bat. You should, however, tell them before you get off the phone. Explain that if they still want to call the other company, it would be best to get bids from both companies for comparison reasons then you can go into why your company is the better choice.)
Confirming an Appointment - If they are calling to say that they were confirming their appointment, use this call as an opportunity to ask if you could also bid on the job—it never hurts to have multiple quotes.
Calling to Complain - If a person is calling about a job that was already completed, chances are they are unhappy with your competitor. This is the prime time to "steal" this customer from your competition. Show empathy by expressing that you understand how frustrating it is to pay for something that did not meet expectations. Explain how you do things differently, and let them know that you would be happy to be the company to do the job properly for them.
Calling With Questions - Being a resource is a great way to turn a caller into a client. Maybe they called you thinking you were one of your competitors and simply had a few questions about a product or service. Help answer their questions, solve their problems, and then tell them you aren't the company they were looking for. They will be impressed that you helped them anyway and may be back for more.
Call for Any Reason - When you get a call from one of your competition's clients for any reason, your first instinct may be to disparage your competitors, but this is not a good look and can turn clients away. Try offering the client something of value to keep them on the phone, such as a free month of service or a free product. Then turn their head with information about what makes your company unique.
Other Ways to Lure Clients Away From Your Competition
Lower Your Prices
Getting someone on the phone is half the battle, so you should leap for joy at any call—even one that was intended for your competition. How can you keep that caller on the line before even getting into the topic of why your products/goods/services are so much better than your competitors'? Tell them about a deal or special you are running on the exact products they are looking for. Once you have their ear, it's just about drawing them in with the rest of your company's offerings, which are sure to dazzle them.
Make Them Feel Appreciated
Unfortunately, existing customers don't always get treated to the discounts, specials, and perks that "new" customers get. Think about the "15% off your first order" deals, the "20% off for signing up" deals, or the "$50 off for new customers" deals that companies offer. You can explain to your competitor's customer that you are willing to offer them what their existing company will not—appreciation. A sweetened pot can get customers to switch sides like Benedict Arnold, especially if their current company isn't taking the time or going to the expense of keeping their customers loyal to their brand.
Share Your Secret Recipe
A lot of small businesses try to guard the key to their success like a dragon guarding its lair of treasure. But what's the story of the dragon and its lair? No one gets in to steal the goods, but the dragon doesn't have much company or gain anything from the valuables it hoards.
Sometimes, it's best to give away a few of your secrets because people are attracted to companies that aren't afraid to help them—and don't charge them for everything. They will want to buy your products and services if you are already helping them with the things they need.
Example: if a person is already using free individual tax-filing software from a tax-filing company that also gives out free tax advice, that same person is more likely to also sign up for a paid service with that company to help them with their business taxes.
When you get that PPC call from a competitor's client, don't be afraid to help them over the phone. Answer some of their questions transparently and for free. Offer them a free service or product. Ignore that instinct that tells you to guard all your secrets. Giving away one or two secrets may be just what you need to convince them to buy the other more expensive secrets.
Show Them Why They Should Choose You
You already know your company is the best in your industry. You don't need to convince yourself of that fact. You need to convince your potential customers. Make sure that with every call you answer, you are prepared to tell potential customers about the list of ways your company is superior to others in your industry. You should know your company's strengths and how your company's products or services differ from your competition's. Then you will be ready when you get a call from a competitor's client.